In layman's terms, electrodes are electrical conductors that are used to make contact with a nonmetallic part of the circuit. There are two kinds of electrodes namely the anode and the cathode. In simple words, anode is the positive part whereas the cathode is the negative part. They are one of the most important parts of an electrical circuit.
In electrotherapy, electrodes are used as a way to connect a electrotherapy device to the body. They come with adhesive pads that stick to the skin and ensure proper contact with the skin. Devices such as combination units, stimulators, TENS and EMS units, all may use electrodes to stimulate various parts of the body. There are a number of sizes and types of electrodes: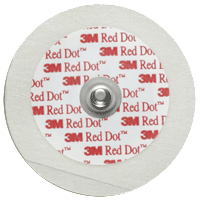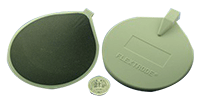 For example, the 3M Red Dot Monitoring Electrodes are traditional-style electrodes which are breathable, flexible and conformable, yet are gentle to the skin for increased patient comfort. Patented solid gel conforms to the skin quickly allowing high quality, uninterrupted traces. The Amrex Flextrode Dispersive Electrode provides patients a personal hygienic application of electrode therapy with each treatment. The flextrode pad is durable and flexible. It is made of 100 percent silicon rubber which assures an easy and comfortable application.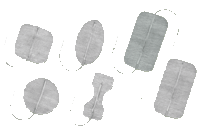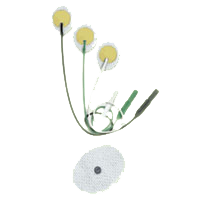 The Axelgaard PALS Platinum Neurostimulation Electrodes combine a patented stainless steel knit fabric, a patented hydrogel and an exclusive impedance compensation system. These electrodes are designed for all FES and TENS applications to achieve optimal current and maximize conformity. The dual layer multistick hydrogel provides comfort and optimizes multiple applications to the skin. The Axelgaard Little PALS ECG Snap Connect Electrodes are revolutionary advance in ECG monitoring. They provide the adhesion, pliability and sensitivity to meet the needs of nursing staff and patient alike. These electrodes are designed for EMG and ECG applications with increased resistance to heat, humidity and dry-out conditions. Come in white fabric top.
All You Need To Know About Electrotherapy
Disclaimer: All content found on our website, including images, videos, infographics and text were created solely for informational purposes. Our content should never be used for the purpose of diagnosis or treatment of any medical conditions. Content shared on our websites is not meant to be used as a substitute for advice from a certified medical professional. Reliance on the information provided on our website as a basis for patient treatment is solely at your own risk. We urge all our customers to always consult a physician or a certified medical professional before trying or using a new medical product.