Various gels and creams are specially designed to be used with electrotherapy. Many a time, sensitive skin forms blisters and sores on the surface when one uses electrotherapy. These gels and creams provide a soothing cool effect on the skin and prevent the formation of such blisters. Many gels are conductive and thus form a nice conducting surface that enhances the therapeutic effects. Electrodes cannot be directly attached to the skin since the body oils spoil the conductive surface of the electrodes. Hence gels are required to form a layer over the body and prevent the body oils from affecting the electrodes thus increasing the life of the electrodes.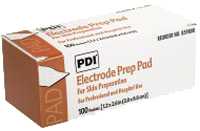 There are number of options in this category, for example the Nice Pak PDI Electrode Skin Prep Pad cleanses skin in preparation for electrode placement. Pumice removes excess skin oil for better electrode to skin contact and longer interface-free contact. It is uniquely designed for the special situations of daily patient care. It contains 70 percent Isopropyl Alcohol and pumice. The Chattanooga Conductor Transmission Gel is a water soluble, non-greasy ultrasound and electrical coupling gel. It will not irritate tissues or damage the ultrasound applicator and hence it is safe for patient. It spreads evenly and is an efficient coupling gel for diagnostic and therapeutic procedures.
The Parker Spectra 360 Electrode Gel is recommended for all electromedical procedures. The salt-free characteristics make it particularly suitable for long-term applications. It differs significantly from all other electrically conductive media. It works by wetting the skin, thereby reducing skin resistance.
The Covidien Uni-Patch Vitamin E Tens Lotion is a post-treatment skin care lotion specifically formulated for electrotherapy. It relieves chapping, sunburn and dry skin while replenishing lost moisture. Enriched with Vitamins E, A, and D, sunflower and sesame oils, and other natural ingredients. It is lightly scented and dye-free.
All You Need To Know About Electrotherapy
Disclaimer: All content found on our website, including images, videos, infographics and text were created solely for informational purposes. Our content should never be used for the purpose of diagnosis or treatment of any medical conditions. Content shared on our websites is not meant to be used as a substitute for advice from a certified medical professional. Reliance on the information provided on our website as a basis for patient treatment is solely at your own risk. We urge all our customers to always consult a physician or a certified medical professional before trying or using a new medical product.