Electrical stimulation has been part of medical therapy and treatment since the advent of electricity in our modern lives. Stimulating a muscle or nerve with regulated bolts of electricity has proven to be very helpful in treatment muscle and nerve disorders. Nerves function on the basic idea of transferring electrical impulses and by using external impulses of electricity, many conditions that are caused by irregular impulses in the nerve can be treated efficiently. There are two major types of electrical stimulation therapies, TENS and EMS.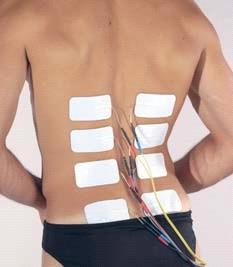 TENS Therapy
TENS or transcutaneous electrical nerve stimulation is a method in which electrical signals stimulate the nerve which then keeps the pain signals from reaching the pain thus inducing an effect of numbness. TENS units are used for providing relief to chronic and acute pain. There are a number of problems that can be cured or treated using the TENS method. They include arthritis, back pain, carpel tunnel syndrome, foot pain, labor pain, multiple sclerosis, and sciatica. TENS Therapy has two main pain relief mechanisms:
1.Pain Gate Mechanism - This mechanism uses high frequency stimulation to activate the specific sensory fibers. When stimulated, these fibers release a non-painful stimulus which stops the pain impulses from reaching the brain.
2.Endogenous Opioid System - This stimulation produces an opioid effect which gives pain relief and decreases the pain signals sent to the brain
Modes of TENS Therapy
Traditional TENS

Acupuncture TENS

Brief Intense TENS

Burst Mode TENS

Modulation TENS
EMS Therapy
EMS or electrical muscle stimulation is a method in which electrical signals cause the muscles to contract and mimic the action potential of the central nervous system. EMS units are used for a number of conditions and practices such as muscle strengthening, rehabilitation, disuse muscle atrophy, enhancing local blood circulation, muscle relaxation, and cosmetic muscle toning. Also know as electromyostimulation, this therapy is common among athletes and bodybuilders.
EMS is often recommended to people who have lost strength in a specific part of the body like hands, feet, or arms. The stimulation helps the resting or weak muscles to get stronger day by day, and soon regain the strength they lost.
What is the difference between TENS and EMS?
Many a time, people confuse TENS and EMS, but both of the therapy systems are very different.
While TENS concentrates on the sensory nerves, EMS is responsible for stimulating motor nerves. Transcutaneous Electrical Nerve Stimulation (TENS) machines stimulate the nerves exclusively to relieve pain. In contrast, Electrical Muscle Stimulation (EMS) machines are designed to stimulate the muscles to strengthen and rehabilitate them.
Precautions While Using Both Therapies
Both the therapies involve using electrodes that are stuck to the skin. If in any case the skin gets irritated or rashes begin to appear, the electrodes have to be placed on another area of the skin. Consult your medical professional if the irritation is persistent

Epilepsy patients have to be very careful while using electrical stimulation as they might cause an unwarranted attack and might harm the patient instead

Those using these therapies while pregnancy should always consult a medical professional before using them near the abdominal region as there is a possibility that wrong use can harm the child
TENS and EMS Therapy Units
TENS and EMS units come in individual as well as combined options.
Rehab Store offers a wide range of electrotherapy aids for pain relief. We are dedicated to ensuring our customers' complete satisfaction and overall health and wellness. Place your order with us and get exclusive discounts on all your purchases. Buy now!