In layman's terms, electrodes are electrical conductors that are used to make contact with a nonmetallic part of the circuit. There are two kinds of electrodes namely the anode and the cathode. In simple words, anode is the positive part whereas the cathode is the negative part. They are one of the most important parts of an electrical circuit. In electrotherapy, electrodes are used as a way to connect an electrotherapy device to the body. They come with adhesive pads that stick to the skin and ensure proper contact with the skin. Devices such as combination units, stimulators, TENS and EMS units, all may use electrodes to stimulate various parts of the body. There are a number of sizes and types of electrodes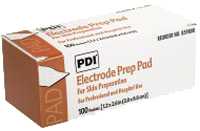 Top Five Electrotherapy Products
Parker Spectra 360 Electrode Gel is a salt and chloride-free electrically conductive gel, recommended for all electro-medical procedures. Salt-free characteristic makes it particularly suitable for long-term applications. It differs significantly from all other electrically conductive media. Spectra 360 Electrode Gel works by wetting the skin, thereby reducing skin resistance.
Features of Parker Spectra Electrode Gel
Non-irritating

Bacteriostatic

Salt-free

No sodium ion transfer

Non-gritty Stay-Wet formula
Chattanooga Conductor Transmission Gel is a water soluble, non-greasy ultrasound and electrical coupling gel that spreads evenly. It does not irritate tissues or damage the ultrasound applicator and hence it is safe for patient and ultrasound head.
Features of Chattanooga Conductor Transmission Gel
Efficient coupling gel for diagnostic and therapeutic procedures

Water-soluble

Non-greasy

Spreads evenly
BioMedical Electrolyte Solution And Skin Prep Spray increases electrode-to-skin conductivity, eliminating hot spots and prevents electrode dryout during prolonged use. The electrolytes in the solution help conduct and spread the electrical impulses from the stimulation device evenly across the treated skin and throughout conductive garment.
Features of BioMedical Electrolyte Solution
Electrolyte for use with muscle stimulation equipment

Non-staining and non-gritty

Highly conductive

Easy to apply and to clean up

Leaves no residue build-up
ECO-MED EcoLotion Transmission Lotion is an excellent alternative to ultrasound gels. It is salt and alcohol-free having a rich texture and pleasant smell. Unlike gels, EcoLotion can be rubbed into skin after treatment, reducing patient discomfort and clean-up time thus adding conductive and non-corrosive features to its advantages. Sold in a 5liter (1-1/3 gallon) squeezable dispenser. An easy-to-handle, 250ml (8-1/2 fl. oz.) squeeze bottle is also included./Clinically validated • Irregular heartbeat feature
Features of Eco-Med Ecolotion Transmission Lotion
One button fully automatic operation

Professional accuracy at home

Easy to read large digital display

Simultaneous display of pressure and pulse
The Pain Management Electrotherapy Electrolyte Spray uniformly and continuously increases and enhances electrode to skin conductivity. It eliminates those hot spots that hamper therapy and prevents electrode dry out during prolonged procedures. It also takes the sting out of muscle stimulation. It is designed to replace water and other conventional media.
Features of Pain Management Electrolyte Spray
Increases conductivity

Eliminates hot spots

Prevents electrode dry out

Takes the sting out of muscle stimulation
Where to Buy Electrotherapy Skin Products Online?
At Rehab Store, we have an amazing range of electrotherapy skin care products that enhances the effects of electrotherapy and provide great results.
All You Need To Know About Electrotherapy
Disclaimer: All content found on our website, including images, videos, infographics and text were created solely for informational purposes. Our content should never be used for the purpose of diagnosis or treatment of any medical conditions. Content shared on our websites is not meant to be used as a substitute for advice from a certified medical professional. Reliance on the information provided on our website as a basis for patient treatment is solely at your own risk. We urge all our customers to always consult a physician or a certified medical professional before trying or using a new medical product.