Helping to Drink
By Taikhum Sadiq
Drinking aids are products that are designed to help individuals who may be temporarily or permanently immobilized either due to an injury, a stroke, or some long term condition. But if these individuals feel need to be able to take a drink without the need for a caretaker's assistance, drinking aids help them to do so.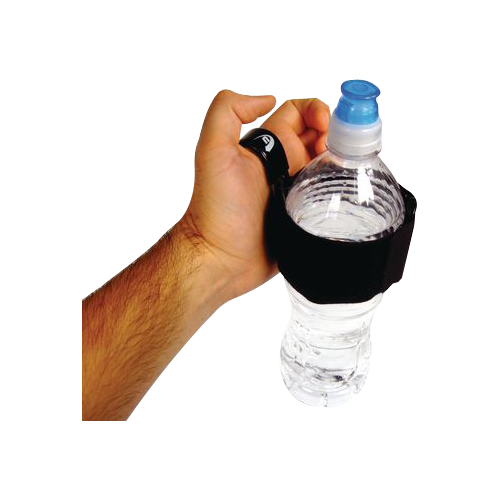 Some are designed to help those who may be due to an injury or a condition such as arthritis, lack the strength, dexterity or muscle control to drink from a normal cup. Easy control and the preventing spills are important concerns for such people. Safety is also a vital factor, so technology has enabled numerous ways of helping people to prepare hot drinks whilst minimizing the risks of accidents.
Drinking aids basically include cups and bottles that have extra stability. Sometimes, an extra handle is added to the cup, or holders that provide extra grip are attached to the mug or bottle. Specialized straws and straw holders are also used by many that increase the safety and ease while drinking something. For example the Kinsman U Drink Adaptable Holder is a device that allows the user to hold and drink a beverage independently. It is an ideal solution for people with limited or no grip strength due to spinal cord injury, MS, cerebral palsy, stroke, arthritis or other disabilities. This holder is highly versatile, and can be adjusted to fit onto bottles, cans, cups & glasses of all different shapes, sizes and materials. The Maddak Straw Holder is for people who are unable to hold or drink from a glass, this clip-on device eliminates the need to hold the straw. It mounts onto the edge of any glass or cup to keep a drinking straw in position. It can accept any straw under 0.375" outside diameter.
The One-Way Straws have one-way valves which stay filled with fluid even after removing the straw from the user's lips. This feature eliminates the possibility of sucking in too much air while drinking. The clip-on straw hooks onto the side of a glass or cup to prevent the straw from falling out. It can be washed with normal washing solutions or sterilized by boiling. The Wedge Cup is designed with a fully adjustable flow control that regulates the continuous output of liquids, from normal flow to greatly reduced delivery, allowing the patient to comfortably and easily drink at their own pace. It is constructed of polypropylene plastic and is safe for home or institutional use. It is ideal for patients with injuries or those who suffer from dysphagia or other swallowing disorders.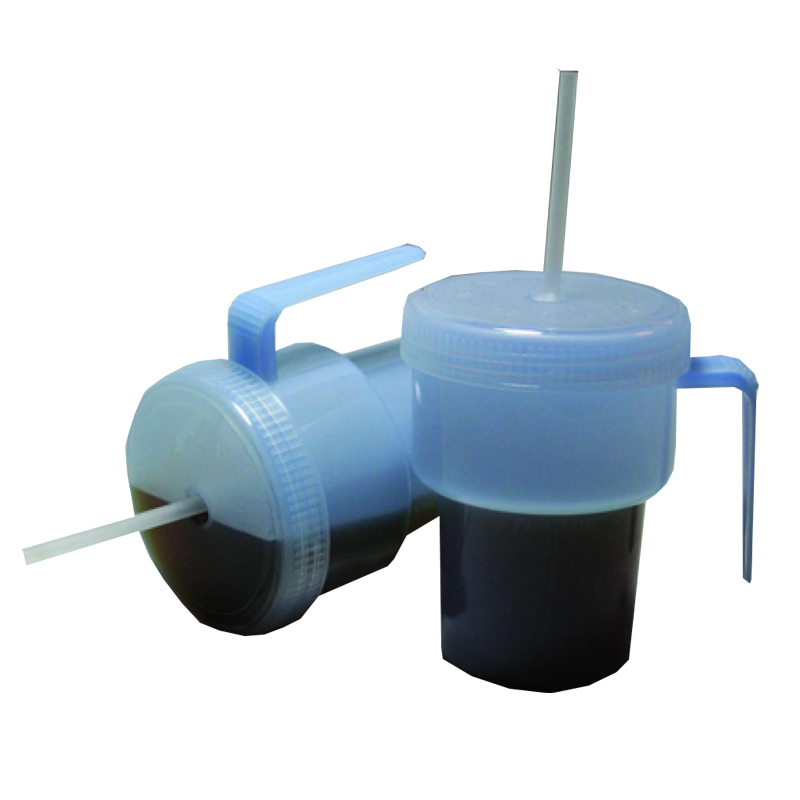 Spillproof Cups – Spillproof cups are specifically designed to avoid spilling over or scalding of liquids. They are made with ergonomic handles and built in straws. For example the Providence Spillproof Container Kennedy Cup is a lightweight and durable drinking cup that is ideal for people of all ages. The patented design allows the cup to be easily filled with up to seven ounces of warm or cold liquid. Once the lid is screwed on, the liquid will not spill out even if the cup is turned completely upside down, thus an end to messy spills and clean-up. The Foam Insulated Mug is high-impact polypropylene mug with handle. It is dishwasher safe to 180 degree Fahrenheit, latex free and non microwaveable.
The Kinsman Insulated Weighted Cup keeps food and drink warm or cold. Weight has been added internally to the base to reduce tremors of the hand. It is latex free and comes with lid. The Independence One-Handled Clear Cup is made of durable, translucent polypropylene to allow monitoring of hot and cold liquid intake. Lids are interchangeable among all beverage containers providing maximum versatility and practicality.
Disclaimer: All content found on our website, including images, videos, infographics and text were created solely for informational purposes. Our content should never be used for the purpose of diagnosis or treatment of any medical conditions. Content shared on our websites is not meant to be used as a substitute for advice from a certified medical professional. Reliance on the information provided on our website as a basis for patient treatment is solely at your own risk. We urge all our customers to always consult a physician or a certified medical professional before trying or using a new medical product.