Loss or decline in vision is often brought on by old age, glaucoma, or other neurological and muscular degenerative disorders. Sometimes, loss of vision is not drastic and can be managed by using devices and tools that can enhance your current vision. At Rehab Store, we have listed ten devices or tools that can help with your daily activities that are just beyond your ability.
1. Full Page Magnifier
Farsightedness and presbyopia are common conditions that can cause difficulty for a person to read anything, ranging from books and newspapers to text on a computer screen. Magnifiers are a common solution to this problem. Available in various shapes, sizes, and designs, magnifiers simply enlarge the text so that it is easier to read. The Full Page Magnifier by Norco does this and broadens the visible area for easy reading. It covers the entire page of a magazine or a book and thus reduces the need to continuously move it around. It can also be used on tablets, phones, and computers.
---
2. Non-Magnifying Prism Glasses
Often we see that continuous strain to the eye in an upright position can cause headaches and, in rare cases, can damage the eyes. Sleeping Glasses or prism glasses work wonders, one can watch the television or read something while lying down. One does not need to sit upright or even raise their head for that matter. The Deluxe Prism Glasses from Norco are non-magnifying and simply enable the user to read or watch something while lying down, reducing the stress on the eyes.
---
3. Over-The-Neck Hands-Free Magnifier
Finding a magnifier each time one needs to read can become tedious. Over-The –Neck magnifiers is a great solution to this problem. They improve the ease of using magnifiers by removing the need for searching for one every time. The Over-The-Neck magnifier from Ultraoptix can help you read books, magazines, newspapers, and much more, on the go. It's hands free and unbreakable. It works on two AA batteries and can be used almost anywhere. Two foam bumpers rest firmly and comfortable on the chest and provide stability to the magnifier.
---
4. Easy See Playing Cards
Playing cards are one of the most common pastimes in the world, each society having its own set of games and rules. The generally available cards have small text which can be difficult for the user if they suffer from visual impairment or reduced vision. Norco's Easy See Playing Cards feature extra-large characters for easy viewing. The enlarged characters enable the user to quickly recognize them, and thus make the game easy to play. They are color coded also for easy categorization.
---
5. Foster Grant LightSpecs
Sometimes reduced vision is due to the capability of the eye to take in light and thus process the image. Using light with a magnifier might just be the help needed. High concentration of light on the desired text can improve the viewing ability manifold. Foster Grant's LightSpecs are the right tool for such a situation. They have two high powered LED lights on each end of the specs that concentrate light on the text and thus enhance the reading experience of the user. They come in different light intensity options depending on the need of the user.
---
6. Electronic Magnifiers
Simple magnifiers have a range to which they can magnify something and depending on the size of the original text the magnification also varies. When one needs powerful magnification, electronic magnifiers come to their aid. With an appearance like the computer mouse, they can be connected to any screen device and can be used as superior level magnifiers. The Electronic Magnifier by Bierley can convert any screen device like a monitor or television into a low vision aid thus helping the user magnify anything to a great extent.
---
7. Folding Magnifiers
What do you do when you need a lightweight, economical, and portable magnifier for your daily need? You opt for a folding magnifier. With added options like lighted and non-lighted, folding magnifiers are the perfect pocket friendly and fitting option to read anything under low light. The Lighted Folding Magnifier from Norco comes with a 3x powered LED light and can be folded easily to be stored almost anywhere.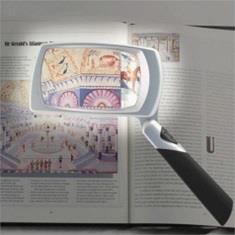 North Coast Medical Lighted Folding Magnifier
---
8. Reading Glasses
One doesn't always need a magnifier to resolve reading issues. Sometimes, a simple pair of reading glasses with powerful optical range can do the job. Foster Grant's Compact Reading glasses are full size reading glasses with telescoping temples that help in relieving eye strain. Spring hinges add to the comfort of the glasses. They are available in multiple magnification strengths and come with a carrying case for easy of transportation and storage.
---
9. Visual Functioning Assessment Tool
Different people need different tools and devices to help them view or read things. In a classroom setting, understanding the kind of devices needed and to understand the reduction in vision, an assessment tool can come in handy. Stoelting offers a complete Visual Functioning Assessment Tool which uses material commonly found in classrooms to assess the visual skills of a student. They are specially designed for individuals of all ages and all functioning levels who suffer from low vision issues.
---
10. Large Print Keyboard
While working on a computer, using two magnifiers one for the screen as well as one for the keyboard can be a confusing and arduous task. What if, instead, one used a keyboard that didn't require magnification at all? The Large Print Keyboard from Enabling Devices is ideal for low vision and low light environments. It has easy to see keys with large print on them for faster and simpler recognition. It also features a high-quality switch technology.
Choosing the right low vision aid will not only improve your reading and viewing experience but will also reduce strain to the eye thus reducing further damage to the eyes. Rehab Store's comprehensive range of low vision aids are specifically designed for all your vision needs.

Disclaimer: All content found on our website, including images, videos, infographics and text were created solely for informational purposes. Our content should never be used for the purpose of diagnosis or treatment of any medical conditions. Content shared on our websites is not meant to be used as a substitute for advice from a certified medical professional. Reliance on the information provided on our website as a basis for patient treatment is solely at your own risk. We urge all our customers to always consult a physician or a certified medical professional before trying or using a new medical product.