Often when we overdo things it results in physical pain and peroneal tendinopathy is no different. Often this injury is called peroneal tendinitis since it involves pain in the outer part of the lower extremities. This is not an inflammatory condition, but swelling can be common due to irritation of the tendons and the surrounding areas. If caught early enough, this injury responds well to physical therapy. How exactly can we treat this condition and/or prevent it from happening in the future and promote foot health to avoid peroneal tendon injuries?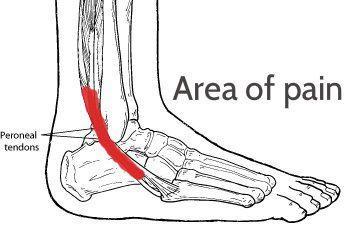 What exactly is Peroneal Tendinopathy?
When we overload one part of our body our bodies tend to respond with pain and peroneal tendon injuries are no different. Injuries to the peroneal tendons are often caused by an increase in any type of weight-bearing activities, poor supporting footwear, imbalances in lower limb muscles, or even unfinished therapy for an injury to the outside lower leg or ankle. The peroneal muscles run on the outer part of your lower leg and are responsible for turning your foot and creating stability in your ankle area, while the peroneal tendons wrap around the ankle (particularly the bony protrusion).
Peroneal Tendinopathy Symptoms
Understanding the symptoms of peroneal tendinopathy can lead to early detection and more success in any physical therapy program. The symptoms of peroneal tendinitis or tendinopathy include:
Pain behind and below the ankle on the outside of the foot

Swelling

Stiffness

Ankle may be sensitive to touch with redness and heat (increased blood flow)

Pain during foot inversion
Treatment and Prevention of Peroneal Tendinitis
More than likely your doctor will prescribe physical therapy sessions in order for you to overcome pain associated with peroneal tendinopathy. Some of these options may include:
1. Achieva Ankle Arc Plus Foot Exerciser:

This polyethylene foam exerciser helps increase range of motion of the ankle in supine, sitting, and standing positions. Not only can it increase range of motion, but it can also be used for scapular stabilization. The nonslip surface offers 360° of motion and includes an exercise flow sheet for therapists to customize exercises and therapies for each individual patient. Achieve Ankle Arc Exerciser to overcome peroneal tendinitis by strengthening the affected area.

2. Elginex Elgin Leg and Ankle Exerciser:

Progressive resistance exercise allows therapists and patients alike to increase the resistance of a therapy session as the user strengthens the area that suffers from peroneal tendinopathy. Elginex Elgin rehabilitation system can perform load resisting inversion, eversion, dorsi-flexion, and plantar-flexion exercises in order to strengthen areas affected by peroneal tendinitis. Each patient should be seated and assisted by a physical therapist for safe operation.

3. Vasyli Hoke Supination Control Orthotic:

Foot supination can lead to an uneven load on the outside of the lower leg, therefore causing peroneal tendinopathy. This orthotic is specifically designed to address the anatomical and common alignment issues associated with a supinated foot. These inserts are perfect for those who compensate with too much supination as they walk creating an uneven load on the lower leg and ankle. Vasyli Hoke Supination Control Orthotic creates a perfect environment for peroneal tendinitis. By utilizing a deep heel cup and lateral forefoot posts, you can control your supination and stabilize your feet. Walk without pain!!

4. Medi-Dyne Tulis Classic Gel Heel Cups:

By absorbing the impact of walking and running, Medi-Dyne Tulis Heel Cups keep the users feet, knees, and associated tendons all in line while providing support for athletic activities. By keeping the load even on the peroneal tendons, these heel cups can provide immediate pain relief for those suffering from peroneal tendinitis or even minimize the possibility of suffering the injury altogether.

5. Comfy Spring Ankle Foot Orthosis:

Peroneal tendinitis can weaken the ankle area and this orthosis is ideal for strengthening the ankle area therefore stabilizing the peroneal tendons. It provides a gentle push during extension and the degrees of flexion and extension can be set easily. Comfy Spring Ankle Foot Orthosis can improve range of motion with regular therapy. In order to prevent skin breakdown, the heel flows freely in the orthosis. Start slow and progress steadily to improve your ankle and stability!!

6. Advanced Orthopedics Accord Ankle Brace:

Designed scientifically to expedite the healing process and minimize recovery time, Advanced Orthopedics Accord Ankle Brace fits securely over the ankle to provide support while recovering from peroneal tendinitis. It prevents abnormal inversion/eversion of the ankle and provides more support for the ankle than the average brace. It has a low profile and is lightweight which can improve patient compliance and allow for improved healing.

7. Cando Pedal Exerciser with Digital Display:

This inexpensive and portable peddler is perfect for strengthening the peroneal tendon area. By increasing the range of motion and strength in this area, peroneal tendinitis can be corrected (especially if the injury is caught early). You can use Cando Pedal Exerciser with a digital display at work under your desk, at home, or in a clinical setting. The rubber feet stabilize the peddler even for those who may have diminished muscle control. The LCD display provides information about RPM, pedal count, and calories burned. Have fun while recovering from peroneal tendinopathy.
Catching peroneal tendinopathy early will result in better results from physical therapy, so make sure you see a doctor and/or physical therapist immediately to achieve better results. In our busy lives, it is extremely easy to create an environment where we can injure our ankle areas. Take care to avoid uneven loads or walking in an incorrect manner in order to avoid the potential of peroneal tendinopathy. Once your therapist has created a therapy program for you, be sure that you adhere to it strictly and don't make any changes without consulting them first. Enjoy life and walk/run without pain!!
Disclaimer: All content found on our website, including images, videos, infographics and text were created solely for informational purposes. Our content should never be used for the purpose of diagnosis or treatment of any medical conditions. Content shared on our websites is not meant to be used as a substitute for advice from a certified medical professional. Reliance on the information provided on our website as a basis for patient treatment is solely at your own risk. We urge all our customers to always consult a physician or a certified medical professional before trying or using a new medical product.