A mattress pad, mattress topper, or underpad is designed to lie on top of a mattress. It is mainly made from foam and its function is to provide a layer of comfort and warmth between the user and the mattress. It is usually beneficial when the existing mattress is worn out or is uncomfortable. Pads often have a contoured surface to facilitate airflow and improve blood circulation. Visco-elastic foam pads are primarily used in medical institutions because of their pressure relieving properties. The foam used in the construction of these memory foam toppers reacts to both pressure and temperature. Combined with greater density and other properties give them their characteristic of "weightlessness" sensation.
Magnetic mattress pads are made with circular magnets inside the foam or under the cover cloth. They create a magnetic field which helps the blood circulation and reduce the most minor of swellings. There are various types of mattresses with different specifications and with different ways in which the magnets have been used.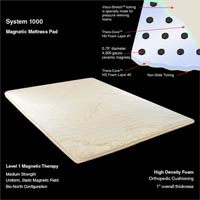 For example the Therion System 1000 Magnetic Mattress Pad relieves aches, pains, sore and tired muscles while sleeping on it. This pad is made of high density foam that cushions entire body. It reduces pressure that can cause morning soreness, soothe tense muscles and help to recover body from stress. Ceramic magnets work to improve blood circulation while rebalancing energy.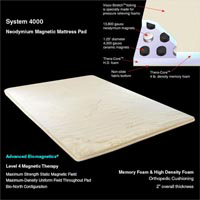 The Therion System 4000 Neodymium Magnetic Mattress Pad has maximum strength magnetic therapy that provides powerful magnetic pain relief and advanced therapeutic sleep comfort. It helps to relieve severe, chronic discomfort and reduce symptoms of arthritis, fibromyalgia and chronic fatigue. The System uses orthopedic cushioning that provides optimum support and pressure relief.
Therion Travel Magnetic Mattress Topper brings comfort and convenience together and provides stress free and soothing sleep while away from home. It uses ceramic magnets that help to relax tense muscles, reduce stress, aches, pains and provide restful night sleep while traveling.
Disclaimer: All content found on our website, including images, videos, infographics and text were created solely for informational purposes. Our content should never be used for the purpose of diagnosis or treatment of any medical conditions. Content shared on our websites is not meant to be used as a substitute for advice from a certified medical professional. Reliance on the information provided on our website as a basis for patient treatment is solely at your own risk. We urge all our customers to always consult a physician or a certified medical professional before trying or using a new medical product.