LumboSacral region     |    Associated Problems     |    Treatment Options     |    Top-Selling Products
What is the LumboSacral region?
The LumboSacral region is the part of the abdomen that consists of the lower spine, the lower abdomen, and the sacrum which is the triangular bone at the base of the spine. The sacrum is differently shaped in men and women. Hence it is also called sexually dimorphic. This region consists of the major muscles that assist with rotation, flexibility, and strength.
What are the problems associated with the Lumbar Spine region?
The muscles in this region are vulnerable to injuries that can be caused by heavy lifting or twisting. Strains and sprains in the lower back can also be a problem. Other problems may include a slip disc, a spina bifida, or a lumbar puncture.
What are the ways to treat Lumbar problems?
LumboSacral supports are the way to go. They are a combination of belts or straps that support the back as well as the front of the lower abdomen. They are good for people who are involved in heavy lifting on a daily basis. They give good stability and support to the spine.
Core Dual Pull Elastic Crisscross Lumbosacral Support
Rolyan Crisscross Controlled Back Support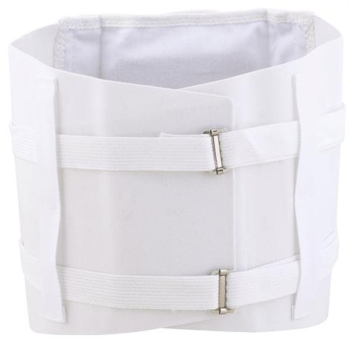 BodySport Lumbosacral Body Support
Optec Stealth Rehab Lumbo Sacral Orthosis Back Brace
Where can I buy Lumbar Support Braces online?
Rehab Store is your one-stop shop for all kinds of health and wellness medical supplies. We offer a wide range of braces for lumbar spine pain treatment from top manufacturers of the industry. Place your order today and get exclusive discounts on all your purchases.
Disclaimer: All content found on our website, including images, videos, infographics and text were created solely for informational purposes. Our content should never be used for the purpose of diagnosis or treatment of any medical conditions. Content shared on our websites is not meant to be used as a substitute for advice from a certified medical professional. Reliance on the information provided on our website as a basis for patient treatment is solely at your own risk. We urge all our customers to always consult a physician or a certified medical professional before trying or using a new medical product.