Arthritis is one of the most common ailments prevalent around the world. Hand arthritis affects the palm and the joints in the palm. It causes a lot of inflammation and pain. If it remains untreated, the hand might lose control over its muscles. Arthritis or therapeutic gloves are designed to reduce the pain and swelling and increase the mobility of the hand.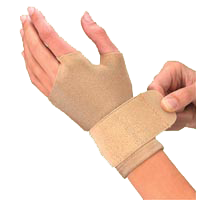 There are three major types of therapeutic gloves, open finger gloves, wrist wraps, and heated gloves.
The Mueller Arthritis Compression and Support Gloves are ideal for arthritis, carpal tunnel syndrome and pain associated with repetitive motion. These gloves provide compression and support for weak or aching hands and wrists. The fingerless design allows for full range of motion. They are made of breathable fabric for comfortable all-day wear. The Rolyan Workhard Gel Glove is for half finger. It is made of terry cloth and spandex sewn on back. It has gel in palm which helps absorb shock and vibration. It has adjustable wrist closure and is latex free.
The Thermoskin Arthritis Glove is designed to provide warmth and even compression, which offers relief of pain and discomfort in the fingers and hands for arthritis and repetitive pain, suffers. Trioxon lining increases skin temperature while taking the moisture away from skin to ventilate. It features velcro closure that allows for ease of application. The IMAK Hand And Wrist Arthritis Gloves are designed to help relieve arthritis, hand fatigue, cold hands and other types of hand and wrist pain. They provide mild compression, help with neuropathy of the hands and increase circulation, which ultimately reduces pain and promotes healing.
Disclaimer: All content found on our website, including images, videos, infographics and text were created solely for informational purposes. Our content should never be used for the purpose of diagnosis or treatment of any medical conditions. Content shared on our websites is not meant to be used as a substitute for advice from a certified medical professional. Reliance on the information provided on our website as a basis for patient treatment is solely at your own risk. We urge all our customers to always consult a physician or a certified medical professional before trying or using a new medical product.