Nosey cups are drinking aid cups that have a cut out on the non-drinking side of the cups which enables the drinker to tilt the cups without having any interference by the nose. This also allows the drinker to avoid tilting the head back, thus minimizing the chance of liquid entering the respiratory tubes and choking the person. Individuals with neck strain or other neck problems can also easily use this cup to drink without using a spouted or lidded cup aid. They are made either translucent or transparent depending on the user's needs. Many of them are dishwasher safe and are microwavable.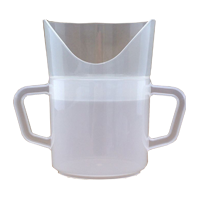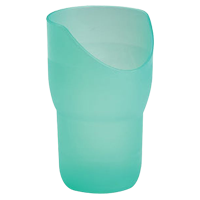 The Independence Two-Handled Nosey Cup is made of durable, translucent polypropylene to allow monitoring of hot and cold liquid intake. Lids are interchangeable among all beverage containers providing maximum versatility and practicality. The Kinsman Ergonomic Nosey Glass provides a steadier grip with its contoured shape and has slightly textured surface. A special cut-out for the nose area allows users to drink easily without tipping the head back. Translucent plastic allows easy monitoring of liquid intake. The Providence Spillproof Nosey Cups have a cut out for the nose to allow drinking without bending the neck or tilting the head. These cups are injection molded to ensure a completely smooth surface and comfortable fit for the lips and nose. They are made from translucent plastic which allows user to see the contents at all times.
They are also used a lot by children as they are easy to handle and can be used to teach young infants to drink from a cup or a glass at a very young age. Pediatric nosey cups are also available in the markets. The Maddak Pediatrics Doidy Nosey Cup for example, features the leaning shape and handles on each side for a secure grip that make this cup appealing to the children. The angle provides space for nose and eye glasses, while making drinking easy and more controlled.
Disclaimer: All content found on our website, including images, videos, infographics and text were created solely for informational purposes. Our content should never be used for the purpose of diagnosis or treatment of any medical conditions. Content shared on our websites is not meant to be used as a substitute for advice from a certified medical professional. Reliance on the information provided on our website as a basis for patient treatment is solely at your own risk. We urge all our customers to always consult a physician or a certified medical professional before trying or using a new medical product.